View a list of all the current disciplines Ugo has to offer.
Horses with higher performance stats move up ranks and tiers. Learn about moving up ranks and tiers of shows.
Shows Arena – Ugo Wynn
When you were told Eqcetera was just a small little town, you had no idea their show system was so vast. Looking around there's plenty of hustle and bustle and everyone frantically trying to enter shows. Off to the side you spot Ugo standing around amused by the ruckus.
Ugo: "Welcome to the Shows Arena, as you can see you sign up for shows over there with the rest of the frantic crowd. If you need to create your own show it's over there too but wont run until tomorrow night. Do you need something else or just want to watch the madness with me?"
Ugo works on entering everyone in discipline shows and spends his nights scoring the competitions.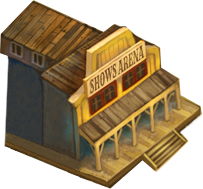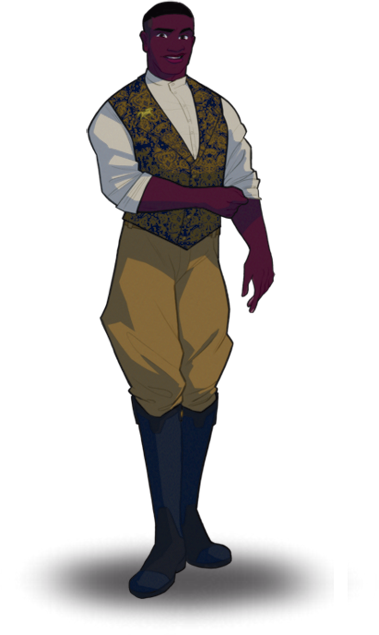 Showing
Showing is one of the most important aspects of Horse Fable gameplay. Showing has three main benefits: players can earn money as well as show experience, and horses will gain levels based on the points they earn.
Player Benefits
Besides earning bits, showing earns reputation points. Reputation points (RP) are earned if your horse places 1st – 3rd in a show. There is a Hall of Fame list for those with the highest RP. It is easier to gain RP in shows with fewer horses. However, fewer horses means fewer levels gained.
Horse Benefits
Horse Points
Points determine your horse's level and are gained for your horse based on a percentage system. The better your horse places in a show, it will again get a higher % of points from that show. The point payout is higher for horses in the higher show ranks.
Levels
Horse level determines the training boost of its foals. Training boosts are calculated by adding the mare and stallion level together, and dividing by ten. (IE. (Stallion Level + Mare Level) / 10 = Foal's TB).The more points your horse has the higher their level!
Moving Up Ranks
Horses who are trained in their performance stats will move up show ranks and tiers. This is beneficial since higher ranks and tiers earn more horse points thus more levels.

Sometimes, with large herds or busy schedules, a bit of help is appreciated.
The enter all and enter all II both help quickly enter shows either from horse pages or from show pages. More info is located here.
Discipline Path
Performance Stats + Good Breed Standard = Discipline Horse
The discipline path means your horse will compete in discipline shows. Horses are best suited for the discipline path if they have performance stats suited for the discipline and good breed standards. This is because disciplines use performance stats and breed standards to determine a horses score, thus placement, in a show.
Horses with poor breed standards or performance stats not suited for their discipline, typically will not excel in discipline shows. If your horse has poor breed standards and performance stats they may be best suited for a career.
Halter Path
Breed Standard + Skills = Halter Horse
The halter path means your horse will compete in halter shows. Halter horses ideally would have as close to perfect breed standards as possible and have some skills. Halter shows are tiered based on a horses star value so your horse will compete against those similar to it.
Horses with poor breed standards, such as multiple poors or fairs, typically will not do well in halter shows and will lose you money from shows due to low scores. If your horse has poor breed standards they may be best suited for a career.
Career Path
Personality + Skills + Performance Stats = Career Horse
Most any horse will excel in the career path if their personality is suited for a career. Careers also used skills to determine our horses payout for a job complete. This means the ideal career horse would first have a personality suited for the career, then throughout its life, increase its skills by completing jobs. Careers also use performance stats at a very low weight which acts as a small boost to career score and payout.
Horses with personalities not suited for any career typically will not do well in careers. This means these horses would potentially be better in the halter or discipline paths. If your horse has a personality that does not suit careers, they may do best in the discipline or halter paths.