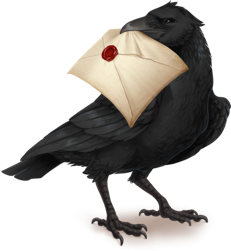 There are several ways to send letters. The easiest way to send a letter to someone is from your mailbox directly from Account > Mailbox > Draft Letter. 
You are able to also mail a letter to someone from their profile page using the "Message" button or from the online player page by clicking the envelope icon below their status.
Incoming letter to your mailbox!
Everyone in Horse Fable has their own personal mailbox which sends and receives letters with ease.
Horse Fable is still lacking in some technology but luckily local crows have taken enjoyment in delivering letters.