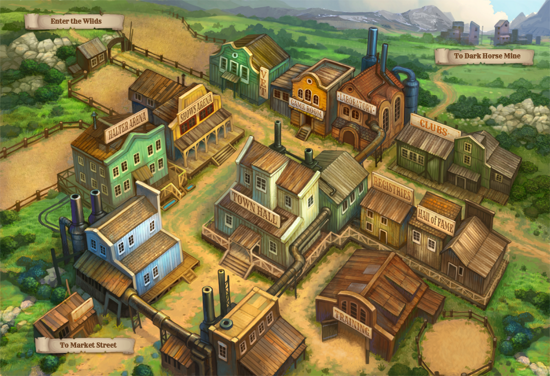 Town
Town is always full of life and has plenty of offerings at a variety of locations. The town acts as the main hub for every aspect of local life from showing, training, and even meetings others! In the town there are several notable buildings:
Vet – Owned by Dr. Be Hoofinit, Bea offers many services from genetic testing to personality revealing.
Game Room – Strata Gee is one of the more secluded locals but tried offer a place to make a few bits while enjoying a game or two.
Lab – Helix is the local town scientist and is able to create all sorts of things. They also excel at breeding predictions and AI breeding.
Clubs – Join like-minded locals or open your own club. Clubs help create community and even some create new breeds!
Registries – Purebred horses can be registered and compete in halter shows.
Hall of Fame – Local legend Halle Fayme runs the Hall of Fame and shows off daily rankings.
Training – Adden Skeels keeps track of open community training facilities
Town Hall – Reed LePage works at the town hall to compile all of the local documentation and much much more. Reed is quite the know-it-all and has plenty of knowledge.
Halter Arena – Enter horses in halter shows if they are registered in a registry.
Shows Arena – Join the chaos of the show arena and enter into discipline shows.