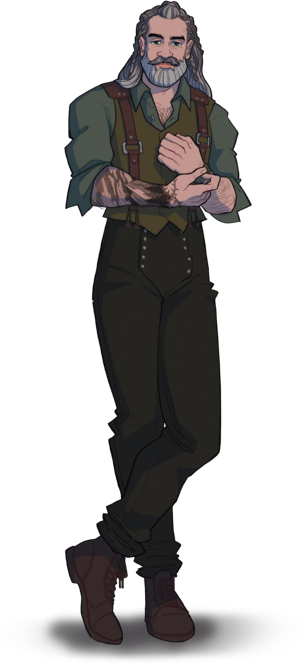 Construction- Mason Bildmore
Bildmore Construction stands as the largest building in town. Walking in you see the fine craftsmanship from the wooden pillars to intricate metal inlay accents. The wafting scent of a spice-smelling candle lingers. Behind the grand oak counter stands an older man who appears to have spent a lifetime building. A list of services is behind the counter with some very large price tags.
Mason: "Well, you have managed to wander in so quietly. Tell me, how can I help you? I'm at your service for any construction needs."
Mason works to ensure all land expansions and estate construction is done properly and with great focus on life-time durability.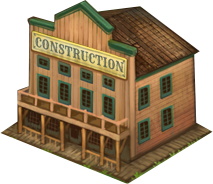 Land Expansions
Land is needed to expand your estate. Everyone begins with 10 acres of land and may upgrade to a Medium Estate without subscribing. Those with bronze and gold subscriptions may upgrade to and Equestrian Park and Platinum players can upgrade to Equestrian Wilds.
Any expansion to your estate has required acres to build on. If you do not have enough acres left, you will not be able to build.
Stalls
Every estate begins with 2 stall blocks. Each stall block holds a specific number of horses with every horse on your estate needing 1 stall to board at home. The larger the stall block the fewer acres needed to build. Mason has perfected maximizing stall and pasture space but requires a hefty price to complete the stall blocks.
Training Arenas
Training Arenas are for upgraded players only. These are used to train your horses on your own estate. Each training arena trains specific disciplines but all arenas are able to train in any career.
Indoor Arena

Trail

Western Pleasure

Reining

Pole Bending

Barrel Racing

Cutting

Vaulting

Outdoor Arena

Show Jumping

Hunter

Dressage

Driving

Hunter Under Saddle

Pulling

Race Track

Flat Racing

Hurdle Racing

Outdoor Course

Cross Country

Endurance

Eventing
Show Arenas
Each estate begins with 3 show creations. Creating shows is possible daily with the shows running the next day. When created shows run, a small bit payout is given for hosting a show.
Show arenas allow you to host more shows per day at your estate. These are limited to upgraded players only.
Feed Storage
Feed storage holds feed and automatically feeds horses at rollover. Horses boarded at home and with "Eat from Storage" selected from their page will be automatically fed if you have enough feed in storage.Your content goes here. Edit or remove this text inline or in the module Content settings. You can also style every aspect of this content in the module Design settings and even apply custom CSS to this text in the module Advanced settings.
Water Storage
Water storage holds water and automatically feeds horses at rollover. Horses boarded on your estate and with "Drink from Storage" selected on their edit page will automatically eat from storage at rollover.
Employees
Employees may be hired for 50,000 bits each and may be put to work from Horses>Manage>Care. Each employee specializes in either feed, water, or grooming. Clicking the boxes for "Feed" "Water" "Groom" on the herd management care page and then "Purchase" will automatically feed, water, or groom all your horses. Even with employees, you must pay for feed, water, and groom at the regular price.
Careers
Career centers may be bought to unlock the ability to have horses complete jobs on your estate. These centers specialize in specific jobs where locals may come and pay for your horses services. There's enough demand where all of your horses can complete 5 jobs a day.